2013 Overview Dynamic Signal Selection ProfitView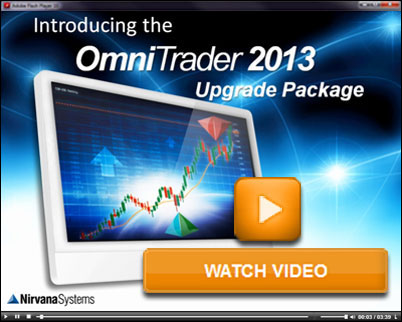 Nirvana Systems is proud to announce the arrival of the OmniTrader 2013 Upgrade Package. This year's upgrade brings big improvements to the OmniTrader Platform. There are two major new features that make this package such a huge breakthrough:
Dynamic Signal Selection
The ProfitView Module
The Power of Dynamic Signal Selection
OmniTrader 2013 most notable new feature called Dynamic Signal Selection, or DSS. This feature ranks and balances incoming trading signals to ensure you get the best Signals for the current market conditions. When applying DSS to the OmniTrader Trading Strategies, we are seeing consistent improvements in Strategy Performance. Learn more about DSS here.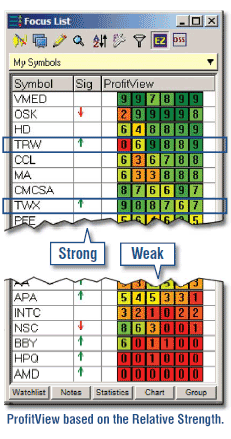 Introducing the ProfitView Module
The second piece to the OmniTrader 2013 Upgrade Package is the new ProfitView Module. ProfitView uses Time-Segmented analysis to provide a more complete picture of a stocks technicals, allowing you to find the Strongest Stocks with Ease. We've also used Time Segmented Analysis to boost strategy Performance, and include three new trading Strategies with the ProfitView Module. Learn more about ProfitView here.

Included ProfitView Models:
Weekly Strength
Monthly Strength
Group Strength
Momentum
Trend Strength
Additional Upgrade Features
The OmniTrader 2013 Upgrade has lots of other improvements too:
Chart Sync keeps multiple charts perfectly aligned, making it easier than ever to perform
Multiple Timeframe or Inter-Market Analysis
Faster start up cuts load times by as much as 50%
Improved Settings Management stores your favorite settings, saving you valuable time
that would be spent repeatedly adjusting parameters.
World-Class Education

Also included in the package is our new seminar by Ed Downs, Consistently Beat the
Market with DSS and TSA. In this video, you'll learn how to get the most out of these
powerful new features. This concise, hands-on seminar is designed to do one thing:
Empower you to make higher profits with less risk using the new features of the
OmniTrader 2013 Upgrade Package.
Key Seminar Topics:
Why DSS and TSA Work So Well Together
Configure DSS for Different Objectives
TSA and the ProfitView Module
Combine DSS and TSA the Best Possible Results

Special Upgrade Package Offer For a Limited Time
The OmniTrader 2013 Upgrade Package is available at a considerable discount.
So ORDER NOW and unleash the power of Dynamic Signal Selection and ProfitView.