Find Tomorrow's Winning Trades Today!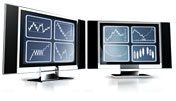 All successful traders know that pattern events provide the best trading opportunities, but finding and identifying profitable patterns can be a slow, manual and even frustrating process. Now you can have instant access to the best chart patterns each market day with PatternScans.
PatternScans delivers the best list of stocks to trade every market day. Nirvana Systems uses a host of powerful servers and our proprietary pattern recognition technology to scan the entire US Stock Market for Trend Line Breaks, Support/ Resistance Bounces, Channel Breakouts, and many more profitable pattern events.
You will be alerted by email once our servers have completed scanning the market, and you can then view all of the stocks in our software.
PatternScans is the easiest way to determine which way the market is going to move. Most traders agree that the only real way to make money in the markets is to go with what is happening now, not what you think is going to happen or would like to see happen. PatternScans automatically scans and pinpoints the highly profitable trading opportunities in the market for you.
With PatternScans you receive Short Term Scans designed to find pattern trades lasting days to weeks, and Long Term Scans designed to find "investment" grade candidates for trades lasting weeks to months across the entire market.
---
Take advantage of Chart Patterns!
Short Term Patterns
Channel Breaks
Fibonacci Retracements
Support/Resistance Bounces
Support/Resistance Breaks
Trend Line Bounces
Trend Line Breaks
Long Term Patterns
Channel Breaks
Fibonacci Retracements
Support/Resistance Bounces
Support/Resistance Breaks
Trend Line Bounces
Trend Line Breaks
---