Confirmer and Entry Signal Generator
Nirvana automates Nicolas Darvas' famous approach in the Nirvana Darvas Box Plug-in for OmniTrader. As an OmniTrader user, you will want this powerful tool on your side-both as a confirmer and an entry Signal generator.
Find outstanding breakout candidates with three different Darvas Strategies.
Enable Strategies that are accurate, profitable, and non-optimized!
Confirm powerful breakout moves with the included Indicators.
Apply Support/Resistance Filters to your OmniTrader Strategies to improve overall Signal accuracy.
---
The Darvas Box
Nicolas Darvas was not a stock market professional, yet he was able to become a millionaire several times over through his unique investment approach, known in popular trading circles as the Darvas Box.
By establishing a "box" around price, Darvas could not only determine optimum entry and exit points, but also assess his risk even before entering the trade.
Automating the Darvas Box Process
Here at Nirvana, we set out to automate the Darvas Box process, but we didn't stop there. Working within the basic premise of the Darvas Box method, we took it to the next level. The result of our efforts is a comprehensive set of Indicators, Trading Systems and Strategies, that are a valuable addition to OmniTrader.
The Darvas Box Classic Strategy implements the well-known Darvas Box approach to trading, while the newly developed Darvas Box Nirvana and Darvas Box Classic Support/Resistance Trading Strategies are variations on Darvas' original work.
While each of these Strategies is designed to find breakout opportunities in the short to medium-term timeframes, each take a slightly different approach to generating signals. This gives you the flexibility to apply the method most appropriate to your style of trading.
---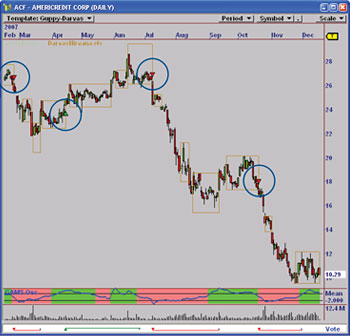 The Nirvana version of Darvas does a fabulous job of
finding Short Breakouts, as shown in this chart for ACF.