CPS 3.0 Automatically Generates Signals on Key Chart Pattern Events
---
Find and trade the most powerful
Chart Pattern events
This plug-in will significantly enhance your ability to find and trade the most powerful Chart Pattern events as they occur in the market. Trading Systems are used to create Strategies in OmniTrader and we have created robust Strategies for each of the CPS Systems. Each Strategy in CPS 3.0 has been tuned with filters and other strategy elements to get the best signals. CPS 3.0 has filters that help it avoid taking Long trades when the market is going down. As the market starts to rally again, the Strategies will do just the opposite, automatically favoring the Long side.
---
Pattern Signals. This chart shows several powerful Chart Pattern Signals, including Fibonacci Retracements, Saucers, Gaps and Resistance Reversals. Given a rich selection of Chart Patterns in the Focus List, you can quickly identify the best setups.
With CPS installed, these Systems appear in the System and confirmer blocks in the Strategies. The trading systems in CPS 3.0 can be used to create new strategies or improve existing ones. They can be used to generate signals, confirm signals in other Strategies or to generate exits. The possibilities are endless.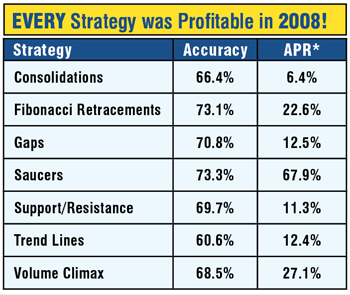 Performance results for all Strategies on the S&P 500 from January 1, 2008 through December 31, 2008.
*APR is the average net Annual Percentage Rate of the return for each Strategy, including both winning and losing trades.