With seven important new patterns PLUS the ability to test the historical profitability of ALL patterns on your list, CPRM5 is sure to make a huge difference in your trading. Prepare to be amazed at the 'moves' CPRM5 identifies before they happen. This is what Technical Analysis is all about. 
No other product on the market does everything CPRM5 does:
CPRM5 identifies over 200 Patterns plus Candles
EASY to USE. Patterns are shown right in the Focus 
List, making it easy to confirm Signals
Strength Ratings from the Patterns Database show 
you the MOST PROFITABLE patterns
Forming Patterns help you see setups BEFORE they 
turn into great trades
The Pattern Tutor shows you examples of all the chart patterns in your data—a great way to learn and gain confidence to pull the trigger on real trades
Micro Patterns Identify explosive short term moves
Individual Patterns 20 Consolidation Patterns AND 24 Candle Patterns classified according to strength
See the profitability of every pattern in your 
list with the Chart Pattern PROFIT ANALYZER
---
7 NEW Patterns! PLUS All the Classic Patterns
Double Tops & Bottoms 
Triple Tops & Bottoms 
Channels
Cup & Handle 
Scallop 
Head & Shoulders 
(Trading) Ranges
Classic Patterns
Support Break
Support Reversal 
Breakaway Gap
Measured Gap
Exhaustion Gap
Resistance Break
Resistance Reversal 
Saucer Reversal 
Volume Climax
Volume Trend
Fibonacci Reversal 
Consolidation Breaks
Trend Line Break
Trend Line Reversal
Plus Candles!
---
Profitable Patterns Appear Automatically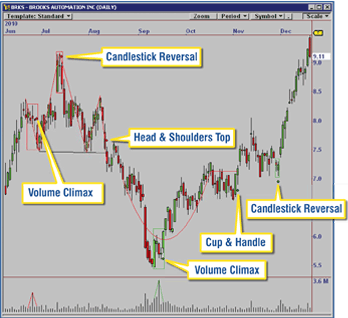 ---
NEW! Chart Pattern PROFIT ANALYZER
Know WHICH Patterns are the Most Profitable on Your Symbols! The NEW Chart Pattern Profit Analyzer makes it easy to SEE which patterns have been the most profitable on your symbol list. Sub-patterns were released in CPRM3. As a result, and with the 7 new patterns introduced in CPRM4, there are literally hundreds of patterns to choose from. So now, what we really wanted to know, "Which patterns are the best (i.e., most profitable) to use?" CPRM5 provides the answer!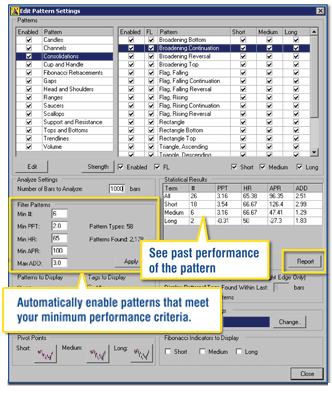 ---
Includes the Pattern Tutor: Learn as you Earn
Quickly and easily learn about the power of the patterns while you use the program to trade.
The education provided by the Pattern Tutor is worth getting CPRM - all by itself.