Trade Options with Ease!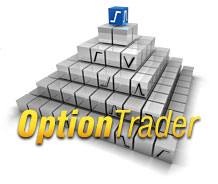 OptionTrader 2 is going to make you feel like an options genius the first time you use it. Given a Profit and Loss Target, the software will automatically evaluate every option method using current option pricing to show you which option trades will make the most money with the least risk. Then, you manage your trades right in the chart. What could be easier?

OptionTrader 2 is more than just an options trading platform.It's the only software in the world that lets you automatically test trading Strategies on popular options methods over a portfolio of symbols. Test Diagonals on Darvas, Butterflies on Breakout, or any other options method on any OmniTrader Strategy.
Why Trade Options?
The recent explosive growth in options is largely due to the increased awareness among traders of the advantages options provide. Options provide the best of all worlds. With options, you can:
Increase Profits
Generate Income
Protect against Market Risk
We designed OptionTrader 2 to simplify the option trading process. Our goal was to make it as easy as possible to get started trading these powerful instruments.
Bigger Profits. Same Risk.
An example of how trading options can be more profitable than trading equities—with similar risk exposure.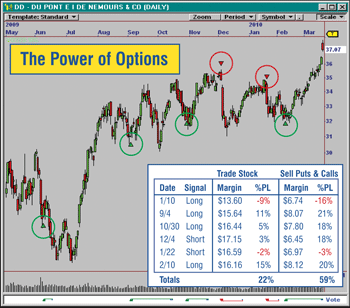 The Reversal Strategy generated these Signals on DuPont. The table compares trading the Stock vs. selling Puts and Calls. Profits were nearly three times higher trading options, while losses were about the same. This is just one of the eyeopening facts you'll discover in OptionTrader 2.
OptionTrader 2 Includes:
OptionFinder – Instantly see whichmethod maximizes your potential for profits while minimizing your losses.
Options Portfolio Simulator – The only product in the world that can simulate options trading on a list of symbols.
Lab Mode – Practice using OptionTrader 2 in historical situations just as if you were trading within the methods in the real market.
Getting Started with Options using OptionTrader 2 – Seminar by Ed Downs included.
Getting Started with Options  using OptionTrader 2
An Options Primer

Options as an Investment
Why Some Traders Lose Money Trading Options, and How to Avoid it!
Options Method Overview

Using OptionTrader

Setting Up the Software
Activating in a Chart
Setting Targets
Identifying and Trading
Option Positions

Options Trade Plans

How Options Plans Work
Defining a Trade Plan
Adding Options Plans to a Strategy
Testing the Strategy
Portfolio Simulations