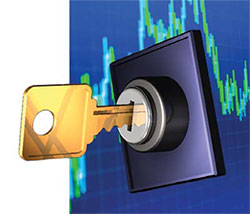 Using the "concurrent pivot divergence" technology, the DTM algorithm identifies and aligns key pivots in both the chart and the indicator. The method works because the indicator changes its internal momentum at extreme chart points, turning up (in this case) as the downward move exhausts itself.
The accuracy of the DTM Strategies is impressive. For example, the DTM Daily Swing Strategy has been over 70% accurate over the last two years. And these are Mechanical Strategies based on the new DTM Systems!
DTM is THE tool you need to engage the market and trade key reversals!

Great Signals in All Time Frames
The Divergence Trading Module comes with three Strategies—each designed to fire Signals in a specific time frame and trading period:
Long Term Divergence Reversals
Daily Swing Divergence
Real Time Reactions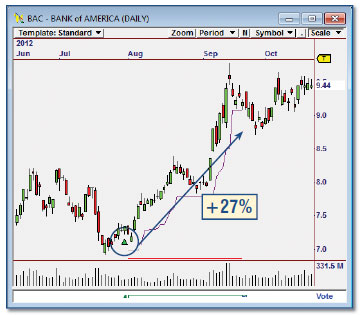 The first chart example is from the Long Term Divergence Reversal Strategy. This Strategy is designed to identify early Signals on overbought and oversold levels at the points where specific indicators are turning up (or down) to indicate a key, long term reversal.
Long Term (LT) Divergence Signals often occur at the beginning of moves that generate upwards of 10% to 30%, as shown in the examples. This makes LT Divergence an outstanding Strategy for prospecting for Long Term moves in any market.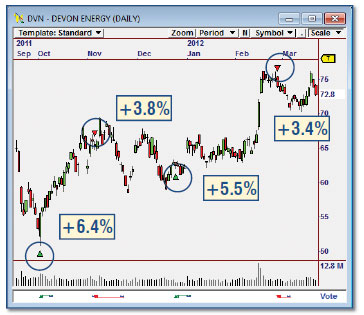 If you are looking for something to give you amazing trading Signals at key reversal points for great Swing Trades, look no further!
Identifying Swing Trades is the "sweet spot" for DTM, because most swings in the market last from 5 to 7 days—the perfect interval for a Divergence to form. At the point a market is overbought or oversold, a Divergence Signal often predicts an explosive move in the opposite direction, as shown in these examples.
One of the most exciting—and surprising—developments in this project occurred when we tested the new DTM approach on Real Time Charts. Creating viable Strategies in Real Time is difficult because of the noise in charts and the erratic behavior in many sessions. But, to our pleasant surprise, the DTM Systems perform exceptionally well in Real Time.
Use DTM's Real Time Reactions on individual stock or ETF charts, and also on the indexes. Set OmniTrader to alert you audibly on new Signals and just wait for them to fire.
Then, use the techniques described in our Divergence Advantage seminar to isolate the Signals that have the highest potential for a big move.
---
The DIVERGENCE ADVANTAGE Seminar
The Divergence Trading Module can be used to successfully fi nd and trade key reversals in End-of-Day and Real Time charts. With years of technical analysis under our belts, we know the precise kinds of setups that lead to the biggest moves.
In this seminar, we discuss what the best setups look like, and show examples of how to use DTM to successfully trade the markets in Real Time, Swing Trading, and Long Term Reversal "opportunity" trading.
The Basics of DTM
How and why divergence works so well
DTM in Long Term Charts
How to identify the most likely long term turning points
DTM for Daily Swing Trading
Unleash the power of DTM for killer Swing Trades
DTM in Real Time
How to automatically uncover the most explosive moves the market has to offer