Now with Profitable Mechanical Strategies!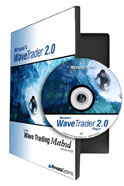 Markets move in waves. They rally, pull back, rally, and pull back again within the primary trend. In declines, the opposite happens—a stock or futures contract will drop, rally back, and drop again. If you take a look at the chart on the right, you can quickly see the power of the new WaveTrader 2.0 plug-in for OmniTrader and VisualTrader.

It's like a roller coaster with higher valleys and lower peaks. These valleys and peaks form our Higher Lows and Lower Highs—the least risk entry point for any trade.
INCLUDES:
NEW Profitable Long and Short Term Mechanical Strategies
The Best Signals at the Least Risk Entry Points
Configurable WaveTrader Systems & Indicators
Elliott Wave Strategy
NEW Comprehensive Method Seminar to show  you how to make the Greatest Profits Possible  using WaveTrader 2.0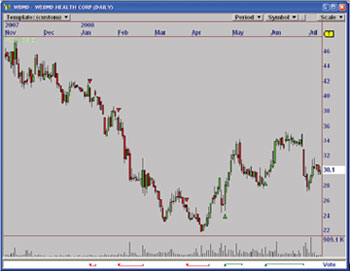 The best entry points for Longs and Shorts are easily identified by the Strategies in WaveTrader. It works because markets sell into weakness on a lower high, and buy into strength on a higher low. Successful technical analysts have used this technique for years to trade with the trend. Now you can, too.
Entering Long trades at Higher Low or Short trades at Lower High provides a tremendous advantage, because this is where a market will accelerate buying or selling.
The Best Signals at the Least Risk Entry Points
Fire up WaveTrader and run it on the WaveScans list or any list of stocks you are watching. You are going to be amazed at how well the Strategies pinpoint new strength or weakness.
In WaveTrader 2.0, we are introducing two great new Strategies—WT Long Term and WT Short Term. These new Strategies have been mechanically profitable for the past 4 years, demonstrating a Hit Rate over 70% with a high Profit per Trade.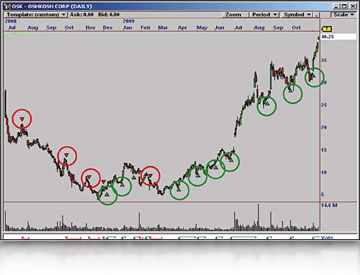 Trading Bonanza! WaveTrader 2.0 is profitable on 86% of the Buy and Sell Signals it generated on Oshkosh Corp in 2008-2009. Note the nearly perfect entries.
Configurable Systems and Indicators
The specialized Trading Systems that identify Higher Highs and Lower Lows are included as components. This means you can add them to any Strategy you have been using to automatically confirm that a Signal is occurring near a probable Lower High or Higher Low—a powerful tool for enhancing existing Strategies or for new Strategy development.
Plus – Elliott Waves!
It was only natural to apply WaveTrader to the Elliott Wave concept. Never has it been easier to find and trade Elliott Wave opportunity points.
NEW! Trading METHOD Seminar
We typically create seminars to go with our plug-ins to help users grasp the concepts. For WaveTrader 2.0, we took the next big step to def ne, test, and demonstrate a Trading Method that
exploits the WaveTrader concept. As the name implies, a Trading Method is a complete approach to trading— discussing the kind of list to use, how to find the best setups and how to
manage your trades. Jeff Drake uses Lab Mode to show you, step-by-step how to successfully engage the market with this
incredible tool. I can tell you one thing— this seminar is worth way more than we are charging for it.
---
The Wave Trading Method
This is the first seminar we have produced that offers step-by-step training on a Trading Method. It's like having Jeff as your personal coach, showing you precisely how to use the WaveTrader 2.0 Strategies to achieve maximum profits.
QUESTIONS ANSWERED:
Which list of stocks should you use to generate opportunities?
WaveTrader generates a lot of Signals. What do the BEST Signals look like?
Which Chart Patterns do the best job of indicating the most explosive moves?
How to determine overall market direction to  maximize your gains.
What other tools should you confirm your trades with?
What kind of money management should be used?
Should you adjust stops in the middle of a trade?
How many positions should you enter on a given day?
How many positions should you take in one direction (Long vs. Short positions)?
Should you ever take profits or just let the  Trade Plan run until the trade exits?
and much more!
The Wave Trading Method Seminar: $295