This Month's Featured Seminar: The Chart Pattern Trilogy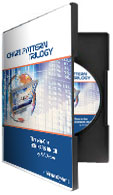 Ed starts with a definition of The 7 Chart Patterns. He also explains the inherent structure that each has, making it easy to establish entry levels, initial stops and profit targets. With over 50 examples, this seminar lays the foundation for the other two.
In Using Chart Patterns in OmniTrader, the specifics of the tools are discussed, creating an awareness of the various options available in configuring the built-in Chart Pattern Recognition plus the CPRM module.

Finally, in Making Money with Chart Patterns, Ed puts it all together with concrete examples on how to use patterns to confirm and trade the best opportunities the market has to offer.
---
Seminars
The 7 Chart Patterns
The Psychology of Patterns
How Pattern Structure Defines Entries, Targets and Stop Levels
Defining the 7 Chart Patterns
Using Chart Patterns in OmniTrader
Automatic Pattern Confirmation
Focus List Column Setups
Customized Strength Ratings
The Pattern Tutor
Making Money with Chart Patterns
Using the Drawing Tools
The Best Charts to Trade
Activate Only the Best Patterns
Key Patterns to Watch For
Patterns in Real Time
Trend-Following Trades
PLUS Chart Pattern Systems 3.0
CPRM3 vs. CPS 3.0
CPS 3.0 Systems and Strategies
Prospecting with CPS 3.0

---
Chart Pattern Trilogy: $199
or call 800-880-0338
*Education materials are non-refundable.