Money Zone Tools of the Trade
Stunningly Accurate Strategies
We've improved the Money Zone Module across the board, and this includes its systems. With improved customization, Money Zone 2.0 allows us to define the most profitable Money Zone signals. One of the biggest improvements is the ability to set thresholds around important Money Zone levels, thereby allowing us to home in on key reversal zones with amazing precision. This level of detail and customization has led to some of the MOST ACCURATE SIGNALS we've ever produced!
NEW! Real-Time and End-of-Day Strategies
Money Zone 2.0 includes three new real-time strategies which all provide great trading signals as well as outstanding results.
The MZ2 Reversal Strategy
As the market looks to establish value, the MZ2 Reversal Strategy capitalizes on the price movement by trading off of the Upper and Lower Money Zone levels. In the chart below, you can see how this strategy is able to pinpoint sharp reversals and quick profits.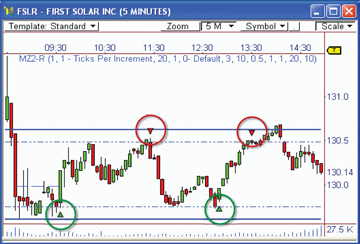 The MZ2 Reversal Strategy fires four trades on FSLR for quick profits!
---
The MZ2 Breakout Strategy
Big profits can be made when price breaks out of the Money Zone; the MZ2 Breakout Strategy takes advantage of these moves. This strategy is the most profitable of the three real-time strategies, and the chart below for EXC shows an example of the power behind these signals.
As EXC rallied and broke out of the Money Zone, the MZ2 Breakout
Strategy picked up most of the move to capture a healthy profit.
---
The MZ2 Bounce Strategy
The third real-time strategy is the MZ2 Bounce Strategy, which uses our new MZ2 Bounce System. This strategy looks to see when a key Money Zone level has been broken. Once price confirms that the previously broken Money Zone level will provide support or resistance, a signal is generated. The Amazon.com chart to the right shows how this setup can lead to exceptional gains.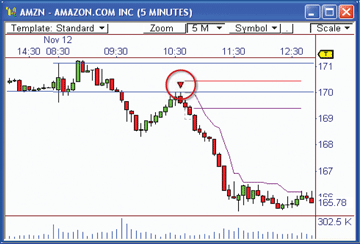 This MZ2 Bounce Strategy fired this trade on Amazon.com and made over 2% in just two hours!
---
The MZ End-of-Day Strategy
The Money Zone concept spans across timeframes, making it perfect for day traders, swing traders, and position traders. Our new MZ2 EOD strategy combines our best Money Zone tools to deliver an all-in-one approach to profiting with daily charts. This strategy makes great use of both the MZ2 Breakout and MZ2 Reversal systems to produce excellent signals for the EOD warrior. See chart below. Want proof? Our initial testing shows NEARLY 70% ACCURACY on the stocks in the S&P 100 over the last two years!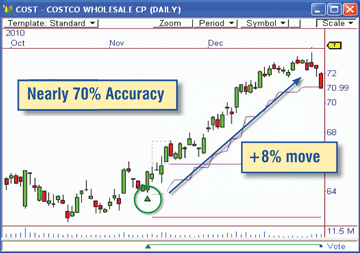 The Money Zone EOD Strategy fired this signal on Costco in November, resulting in a profit of about 8%!
---
Money Zone 2.0 Includes:
Stunningly Accurate Strategies more »
Home Run E-Mini Results more »
The Power of Confluence more »
Multiple Timeframe Plotting more »
New Systems and Stops
Improved Customization
Introduction to Money Zone 2.0 Seminar on CD
---

PLUS Don't Miss!
The TRADE MASTER Series  for Money Zone 2.0
Includes the two presentations on CD and download links of
recorded Trading Webinars. more »