Money Zone Tools of the Trade

The Power of Confluence
The Money Zone helps to illuminate critical levels in the market unlike any tool we've ever released. How do you improve upon this? By using the power of confl uence in your trading! Essentially, confluence occurs when several uncorrelated indicators point to the same conclusion. By combining the various Money Zone indicators with, say, Volume at Price or our new Multiple Timeframe Plotting feature, you can have even more confidence in your setups! Confluence allows you to take a professional approach to trading the market.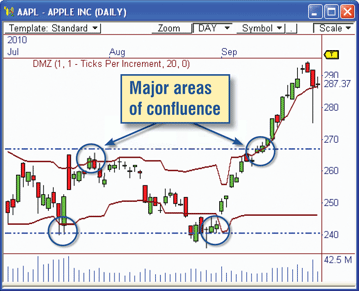 The Money Zone offers a multitude of ways to view areas of
confluence, including combining developing and static Money
Zone levels for powerful analysis.
---
NEW! Multiple Timeframe Plotting
You asked for it; we delivered. With Money Zone 2.0, you now have the ability to plot weekly, monthly, and quarterly levels in intraday charts AND daily charts! Using multiple timeframe analysis with the Money Zone significantly improves your chances for success, since each timeframe is a call to action to various types of traders.
While day traders might enter a trade due to an intraday Money Zone level, that same level may also invite swing and position traders to enter the market because it coincides with a weekly, monthly, or quarterly level. Therefore, you are able to see the levels where the most money is being put to work!
Our NEW Multiple Timeframe Plotting allows you to see
important areas of confluence in ANY timeframe.
---
Money Zone 2.0 Includes:
Stunningly Accurate Strategies more »
Home Run E-Mini Results more »
The Power of Confluence more »
Multiple Timeframe Plotting more »
New Systems and Stops
Improved Customization
Introduction to Money Zone 2.0 Seminar on CD
---

PLUS Don't Miss!
The TRADE MASTER Series  for Money Zone 2.0
Includes the two presentations on CD and download links of
recorded Trading Webinars. more »